Jetzt 15% sparen auf Kassetten, Ketten, Antriebsteile bis zum 11.08.2022! RABATTCODE: Kette-rechts
Save 15% now on cassettes, chains, drive parts until 11/08/2022! Your Discount Code: Kette-rechts
カセット、チェーン、ドライブパーツが今なら15%OFF(2022.08.11まで)! 割引コード: Kette-rechts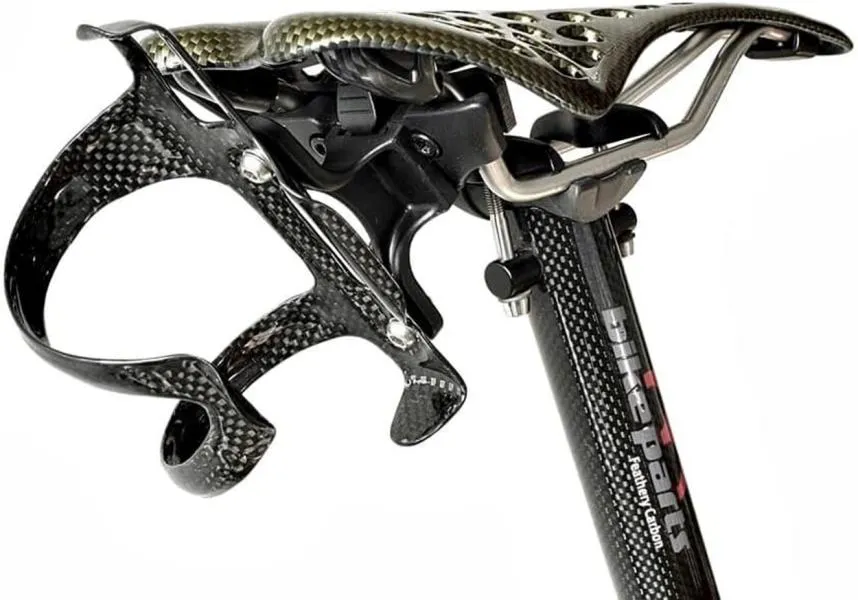 Seat Bottle Cage Holder - Saddle Adaptor FC131Sportly.
Item discription:
Feathery Carbon saddle bottle cage holder FC-131Sportly. Drinking bottles with 550 ml are safely enclosed in this bottle cage holder and held firmly on cobblestones, promise. The bottle cage adapter can be easily mounted behind the rider on the saddle and impresses with its sleek design. The removable mechanism is helpful, a bottle holder made in Germany of carbon fiber at a fair price.
Scope of delivery and price after selection:
1 x Removable bottle system, maintenance-free
1 x Carbon bottle cage, FC131
2 x Bottle cage screws, stainless steel
1 x Elite Corsa clear red, or clear gray or in black silver
1 x Allen key
Important information: Seat post, saddle are not included in the scope of services!
Please select your desired set with or without water bottle, tool box, mini pump, saddlebag or colored bottle holder screws in the top right corner.

Warning: Not suitable for a carbon saddle with rails diameter over 7.5 mm! The rails must have in direction to the saddle surface a distance width of approximately 6.0 to 6.5 cm thus the device can be mounted. (Please measure the rails width and distance before you buy the kit.)